Why You Should Consider a Lounge Setup For Your Wedding
When lounge furniture is added to a wedding cocktail hour or reception it will transform both the space and overall feel of your event. Whether you are looking to create an upscale VIP atmosphere or a cozy place for your guests to relax, we will work with you to create a lounge setup both you and your guests will love.
It's important that your guests feel comfortable and relaxed throughout your entire wedding and reception, which is why a wedding reception lounge is a perfect addition to your wedding. It's ideal for guests who want to get away from the dance floor and mingle with other guests, or just enjoy people watching. This is an especially sought after addition for those planning a party-like atmosphere for their reception which might make it difficult for guests to have a conversation.
What is a Lounge Setup?
Our custom lounge setups consist of the well-known white lounge furniture rentals such as couches, chairs, glow tables (Low Boys & Hi Boys), and even beach cabanas. Clients can choose to furnish their entire event space using lounge furniture rather than traditional seating or simply create a smaller lounge section for guests to use.
We can also provide pipe and drape rentals which help transform both the look and feel of any venue. Whether you want to cover all of the walls completely or add it a backdrop behind the DJ booth or sweetheart table, pipe and drape will make it look amazing!
Draping comes in a range of colors from coloring sheer white (uplights look great on this!) to any color to match the room's decor or your wedding colors. Our team of wedding decor professionals can add all of the little details to your wedding to make it stand out.
What Kind of Venues Are Lounge Setups Ideal For?
Indoor Lounge Setups
Lounge areas are ideal for indoor settings to serve as a location for guests to take a break from dancing or sitting at tables to mingle and relax. A lounge set up for indoor spaces is ideal because it keeps all of your guests inside the same room, rather than ending up with your guests scattered indoors and outdoors where they may miss an important moment like the cake cutting or speeches.
Outdoor Lounge Setup
Outdoor weddings are the perfect setting for a lounge setup. Guests will have a comfortable place to relax and enjoy the sunset, mingle, and have a drink. Plus it adds a glamorous touch to a garden wedding setting.
Poolside Lounge Setups
A poolside lounge area is an easy spot to play with and create a stunning lounge setup. Using a combination of cocktail tables and small comfy couches is all you really need for a poolside reception. You can also add mood lighting that matches your wedding colors.
Cigar Bar Lounge Setups
A cigar bar lounge is a perfect way for some of the men (and ladies) to end the night, while the rest of the guests continue to dance the night away! A cigar lounge setup will become the perfect spot for people to relax and talk as the night winds down.
Kid's Only Lounge Setups
If you're inviting a decent amount of kids to your wedding, you might want to set aside space for them to hang out apart from the dance floor. You can create a lounge area filled with board games and kid-friendly snacks to create a fun space for your younger crowd to have fun while the adults dance and mingle.
How to Setup Your Lounge Area
Creating a lounge setup can easily become a daunting task if you are trying to locate and bring in all the pieces on your own. Instead of adding that level of stress to your wedding day, allow our staff to create the perfect lounge area for your reception.
While we will take care of all the heavy lifting, here are some things you can consider when developing your vision for the wedding lounge: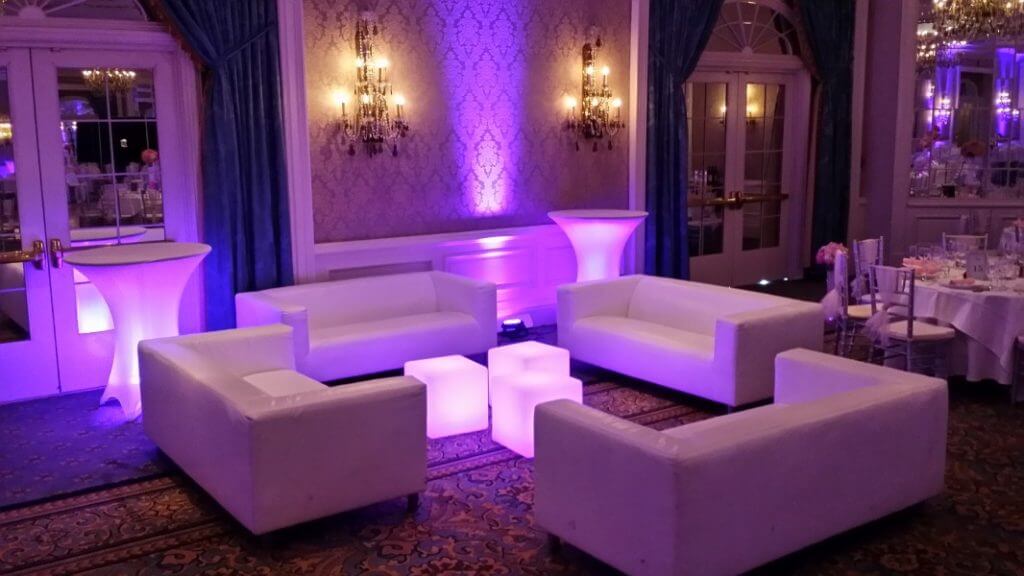 Incorporate Your Wedding Colors
Like all of the other details you have incorporated into your wedding day, you want to make sure that your lounge area looks like it belongs with the rest of your wedding decor. This can be as simple as adding some pillows or blankets that coordinate with your wedding colors or adding flower arrangements that match your table centerpieces. The idea is for this space to be a mini version of your reception, with a more relaxed feel.
Place it Near a Bar
Like any other lounge, you want to create a space for guests to enjoy a drink and relax when they aren't dancing. This means placement is important. If you're unable to place it near a bar you can even consider incorporating a DIY cocktail bar in the space or have a few reserve liquors placed inside for those who are choosing to hang out in the lounge.
Lighting is Key
When it comes to anything at your reception, lighting is key. The lighting inside your lounge should be soft and subtle. While you may not have control over the overhead lighting in the venue, you can always bring in some string lights, candles, and even lanterns to set the mood. Additionally, we have multiple lighting options for couples to choose from to enhance this space.
Let Guests Know It's There
The most important thing about the lounge is that it's being used by your guests. If your lounge area isn't in the main wedding reception space, place some signage that lets your guests know about the lounge and where to find it. 
Contact Us to Book a Longe Setup for Your Wedding Today
At Gemini DJs we are experts at creating stunning lounge setups that will match the look and feel you want for your wedding day.
We can also provide music and live entertainment, ambient lighting, fun foods, and audiovisual rentals to make the night perfect. Contact us today at 973-686-1003 or fill out our contact form to learn more.